One of Sandy Lane's Great Adventurers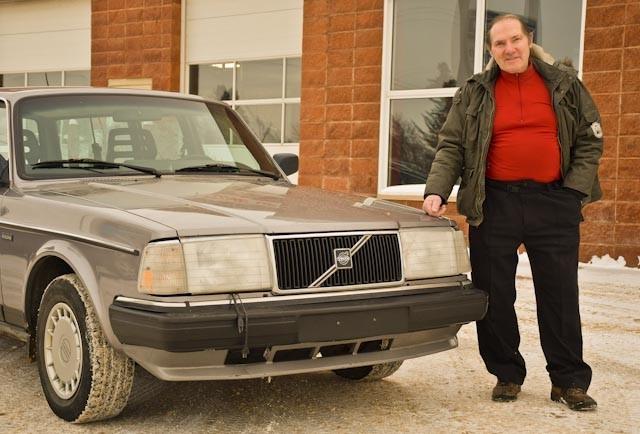 DAVE REDFORD

Some of the greatest tales of outdoor adventure are shared with us at Sandy Lane when Dave Redford comes to visit. It is nothing for him to strap his two canoes and kayak to the roof of "old reliable," a 1991 grey 245 wagon with 284,000km (nothing compared to his previous Volvo which racked up close to a million kilometres!). Dave is not afraid to head into unfamiliar and rugged terrain. The last trip we heard about was a three-week canoe trip on the Horton River, travelling from its headwaters, a little north of Great Bear Lake, all the way to the Arctic Ocean.
Dave is a chemical engineer and, before retiring, did research for Alberta Research Council and Alberta Oil Sands Technology and Research Authority. Since retiring, he has lectured at the University of Alberta and done consulting work.
FAVOURITE THING ABOUT SANDY LANE:
"Sandy Lane is not like other service stations, and there are many good stories I can recall. One story came after a traffic accident. I wasn't prepared to replace the car, and I asked Sandy Lane if they could do the mechanical work, find a second-hand door and reattach the bumper. They did the work, bumped out a dent in the rear panel and made it driveable again. I don't know that anyone else would have gone to that effort."
FAVOURITE ACTIVITY:
Dave was President of the Alberta Senior Citizens' Association for a time, running provincial-wide winter and summer games for seniors. But his one true passion is curling. He calls it "ballet on ice", and, at age 81, can still slide like he always has, with grace and strategy.
FAVOURITE BOOK:
"I love history and historical fiction. I just finished reading A Column of Fire by Ken Follett."
WHAT HE LOVES ABOUT WHERE HE LIVES:
"We live on the banks of the Sturgeon River with 60 acres of boreal forest in our backyard and access to 6 km of trails and bridges. We are so lucky to live where we do."